In case you are looking to buy a new Mac, iPhone, iPad, Apple TV, or iPod – there are numerous ways to browse the available models and make a purchase. Here you will find information on how to buy Apple products at Apple's online store, as well as at an Apple Store location.
In addition, you will get to learn how to arrange to return a faulty Apple product, as well as how to repair a broken Mac or iOS device. So, without further ado, let's jump right in.
How to Buy Apple Products
Apple's New Concept
What first needs to be highlighted is that Apple plans to redesign its retail locations. We can see this new concept at the new flagship Store in San Francisco. We previously wrote about this location while it was under construction, so you can find some information by following this link. This Store brings updated design elements that could show up at a Store near you.
Apple's main flagship store in San Francisco, the one located at 1 Stockton Street, was never something Apple could be proud of. This location has been taken over by the massive Central Subway construction project, even though this was a busy corner even before. Even Apple CEO Tim Cook would choose to make his appearance at the Palo Alto store instead, especially when a new iPhone debuts.
There are several new elements that the new Union Square offers, which may change your view on how to buy Apple products. These are:
Genius Grove: Apple has decided to move the Genius Bar away from desks and under the trees. Don't worry, this section is still indoors, though. With a new (and even more pretentious name), you will get to fix your broken Apple products in a more pleasant way.
The Plaza: The new Store now has a semi-public area where Wi-Fi and seating is available. The company plans to offer different kinds of events happening here.
Try before you buy: There is also a completely new area of the store. This is where iPhone owners can try cases for size, selecting from a large collection on a dedicated wall.
The Forum and The Boardroom: The Forum is a rebranding of the educational workshop area, while the boardroom is a place where business customers are dealt with.
It is understandable why some people feel overwhelmed when they enter the Apple Store. There are all kinds of dedicated sections, but Apple's employees are very kind and they will be glad to show you how to buy Apple products. Just ask for help.
Apple's Online Store
The simplest way to buy a new Apple product is to visit the company's online store. This is where you can find the newest models and lots of accessories. The online store is split into different categories: Mac, iPhone, Watch, iPad, iPod, Apple TV, and Accessories.
When it comes to buying a new Mac, you start by going into the Mac category, and then choosing a model you are interested in. For example, if you plan to buy a MacBook Air, simply choose this notebook and you will see four available models. You'll see the main specs for each model listed, but there are more ways to customize your future notebook.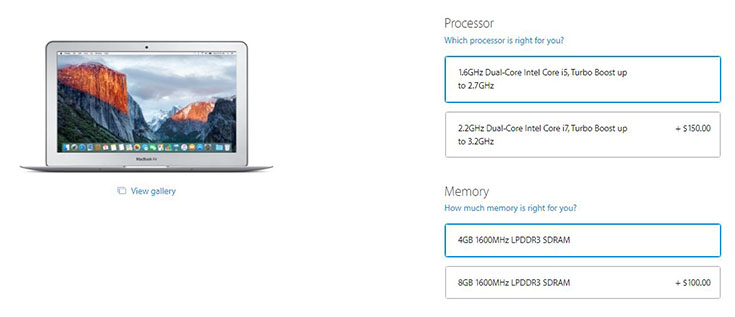 The idea is to find a Mac that most closely matches the one you want, and then click on "Select". The next page will show you customization options. For example, you can add extra RAM memory, upgrade the hard drive, or even buy Apple's SuperDrive if you need a CD/DVD drive. Once you're done, click on "Check Out".
Before arriving at the Checkout, you will need to sign-in using your Apple ID credentials. At this stage, you will see Delivery Dates and Options, and you can choose a pickup location. You can always log-in and check the Order status to view the most up-to-date status of your order.
In case you need any help, you can always use a Chat function to find someone who will assist you.
Genius Bar
Many people choose to pick up their new computers and devices at one of the Apple Stores. You can find a list of available Stores by following this link. This way, you can use the Genius Bar, so a trained employee can help you set up your Mac or iOS device, and even transfer files from your old device.
The Genius Bar is the place to go when you need your hardware repaired. To arrange an appointment, visit the Apple Support page. Choose the product that is causing your problems. Answer a few questions to explain your situation, since maybe a simple solution could do the job. If that's not the case, you can make an appointment.
To arrange a visit, you need to enter your postcode or let the website find your location. You may have to try a few Stores before finding the one with the necessary expertise for your problem.
The Refurb Store
Since Apple products are not cheap, many are looking for refurbished products. In case you are looking for how to buy Apple products (second-hand), here's the guide.
The company's official website will take you to a part of the Online Store called "Refurbished & Clearance".
The products you will see are likely brand new, but returned models. They could be also reconditioned models. For example, this could be a Mac that is used during Apple's teaching seminars. The return unit may have been faulty, or may simply have been returned under the standard procedure.
What is important to be said is that Macs bought from Apple's Refurb Store are cleaned, checked, tested, and visually indistinguishable from brand-new models. These products also come with a great price, since they can be 10 to 20 percent less than the original price.
Conclusion
We hope you've found our guide to be helpful. I am sure the next time you go to the Apple Store, you won't be as overwhelmed as before.
In case you feel like there's something that's missing, feel free to contacts us, or leave us a comment.