It's official! Apple's latest major version of its mobile operating system is slated for release just a couple of days from now (September 13th). Apple brought this news during this year's September Media Event, alongside previewing the new iPhone 7 and iPhone 7 Plus.
Even though we have already taken a look at the most prominent features of iOS 10, now it's time to take a deeper look and as well as to inform you on how and when to upgrade. We will be also answering some of the following questions: Which iPhones, iPads, and iPod Touch models can run iOS 10, what are iOS 10's best new features, as well as what's different between iOS 10 and iOS 10. Let's jump right in.
iOS 10 Release Date
On September 9th, Apple sent an email to members of iOS 10 beta program that the final release candidate is being rolled out on that day. What that means is that Apple has finalized iOS 10 and is ready to ship the new version of iOS to all users of iPhones, iPads, and iPod Touch models on September 13th. Members of the iOS beta program are already able of downloading and installing the GM candidate, that will be identical to the version that will be deployed to all iOS users.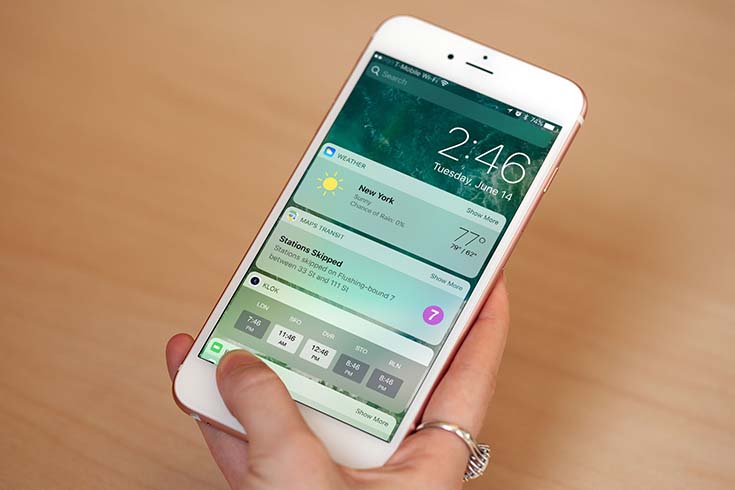 Even though iOS 10 was first unveiled at WWDC 2016 in June, the company used these last couple of months to work on improving this mobile operating system. App developers were among the first who were able to beta test iOS 10, even though shortly after non-developer beta testers were able of taking part of the public beta. Since then, Apple has released 7 beta versions in order to ensure that iOS users will be getting the most polished version.
There is also one interesting fact when it comes to iOS 10's release date. Even though we usually receive leaks from several well-known leakers and analysts, one of the latest rumors came from none other than Barbra Streisand. During an interview, she said how frustrated she is about how Siri pronounced her name. She called up none other than Apple CEO Tim Cook, who said that Siri will change the pronunciation of Barbra's name on September 30th. Media began speculating that this could be when iOS 10 is going to be released, but this is not the case as we can see it now. Still, maybe a new, minor update is slated for release in late September.
Which Devices Can Run iOS 10?
According to Apple, iOS 10 will be released as a free update for the following devices:
– iPad 4 and later (iPad 4, iPad Air, iPad Air 2, iPad Pro)
– iPad mini 2 and later (iPad mini 2, iPad mini 2, iPad mini 4)
– iPod Touch 6th generation
– iPhone 5 and later (iPhone 5, iPhone 5c, iPhone 5s, iPhone 6, iPhone 6 Plus, iPhone 6s, iPhone 6s Plus, and iPhone SE).
iOS 10: New Features
Enhanced User Experience
After updating to iOS 10, you should some new things immediately after your update. For example, there is a new lock screen that makes it easier to do more without unlocking your device.
Those of you who use iPhones with second-generation Touch ID probably know how frustrating it can be to hit the Home button and be sent right to the Home screen. Apple has unveiled a new feature called Raise to Wake, which makes the iPhone activate and light up when you lift it up. That's right, now you only need to pick up your phone to see notifications. Interestingly enough, this is only one of several features where we can see the influence of the Apple Watch on the iOS ecosystem.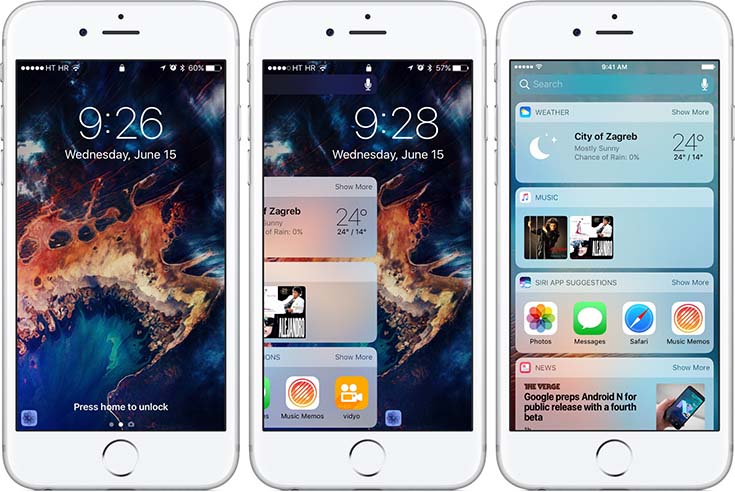 Apple didn't stop after building Raise to Wake since notifications are now much more interactive. There are numerous new 3D Touch shortcuts that let you respond to the notification without leaving the lock screen, as well as numerous new dynamic features. For example, you can respond to messages right from the lock screen while staying in a messages thread. Additionally, you can see a live progress of your Uber driver, and more.
Control Center also received some modifications. Now you can customize it deeper and it changes its looks depending on the context. Furthermore, it now has multiple screens, so you can swipe left or right to get to a new music section.
Finally, "Slide to Unlock" has now be renamed to "Press Home to Open". Doing that will prompt you to enter your passcode to unlock, or you can use your Touch ID.
Siri
Aside from bringing Siri to Mac, Apple has been working hard on expanding Siri's capabilities on iOS. This virtual assistant can be now integrated with third-party apps, which means that developers are able of connecting their apps with Siri. For users, this means a lot.
This means that now you can instruct Siri to book you a ride using Uber or Lyft, as well as to send Facebook messages, or to contact your co-workers via Slack. Some of the apps that will support this function as soon as iOS 10 lands are Slack, WhatsApp, Uber, Lyft, Shutterfly, Pinterest, Map My Run, RunKeeper, and lots more. We can expect from this feature to become highly popular, so the majority of developers will most likely jump in.
One of the latest betas of iOS 10 brought a way to control apps that have a connection to Siri. This option can be found within Siri's settings, in the "App Support" pane.
QuickType
QuickType has been an interesting feature that iOS 9 brought. Apple has made its iOS keyboard much smarter and able of learning your writing style. This is how you were able to see some suggestions as you type, which should have made it easier and quicker to type. Still, many of you know that QuickType was somewhat of an annoyance since it was half as good as in iOS 9 demo videos.
On the other hand, we can expect this change with iOS 10. QuickType is bringing "Siri intelligence to the keyboard", which means that it's becoming more proactive at bringing in data from apps and offering suggestions tailored by you. If someone asks where you are, you will be prompted to send a suggested response via Apple Maps. In a similar manner, if someone asks for your parent's address, you will be asked if you want to send an address from your contacts.
Those who you who speak two languages and frequently switch between them while writing will be happy to hear that multilingual typing is coming. This means that you can combine two languages and easily switch keyboards. This also works with QuickType.
Photos
Just like QuickType, Photos has been also given a new feature that brings artificial intelligence to this app. Similarly to how Google Photos work, the Photos app will use deep learning techniques to analyze faces, places, scenes, and objects. As Apple said, there are 11 billion computations made per photo in order to closely examine it, which should result in building smart albums.
This way, the Photos app can link photos and videos by place, people, and time, and create trip mementos. Since Google Photos is doing an amazing work on examining photos and offering numerous ways to automatically create albums, we can only hope that Apple will try its best to match it.
Maps
Just like some other previously mentioned apps and technologies, Apple's Maps app will receive deeper integration with third party services and it will also try to learn your habits. For example, if you go to work every morning, the app will realize that and it will ask if you'd like to be navigated towards your destination.
Developers will also be able to integrate their apps with Apple's Maps app. One of the first to bring this kind of connection is Uber. Once iOS 10 lands, you will be able to book a ride with Uber and pay for the ride without ever leaving the Maps app.
Music
If you are an Apple Music subscriber, you probably already know that the Apple Music app will receive a major redesign. This comes after one year of complaints that the current app is bloated and hard to navigate. You'll be happy to learn that Apple has heard your voice and is bringing numerous improvements.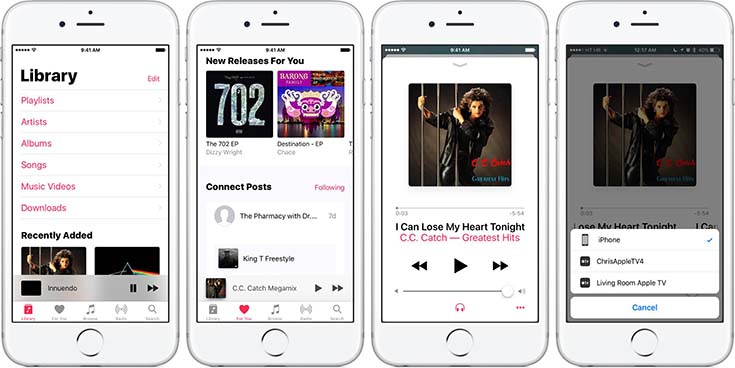 The new Apple Music brings a bolder design with clearly indicated playlists. It still brings five tabs, but they've been changed to Library, For You, Browse, Radio, and Search. The main tab is the Library tab, where you can find your locally stored music, but also search for songs and albums on the network.
The Now Playing interface has also been altered. You will be presented with the album's cover art, as well as the playback controls. As you scroll down in this view, you will see the lyrics of your song.
News
The News app has also gone through a redesign, similar to Apple Music. Now it's much cleaner, with easier to read typography. One of the additions is subscriptions, similarly to how the old Newsstand app worked.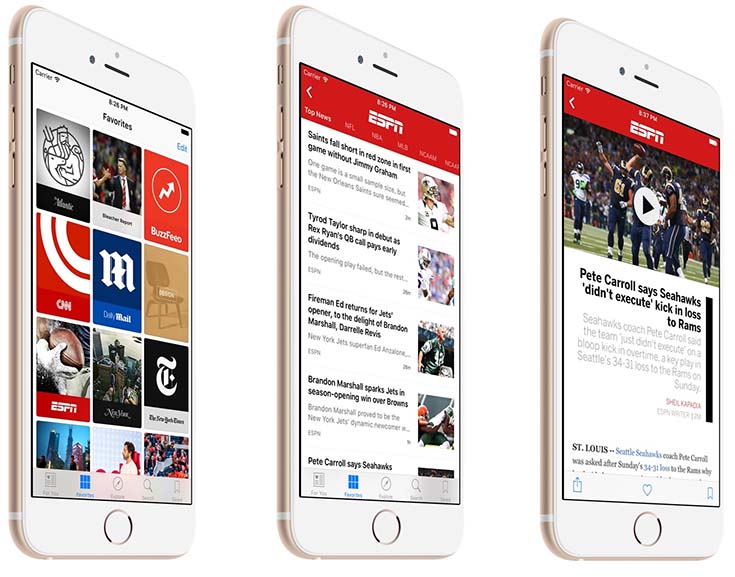 There is also a "Breaking News" notification, which you can toggle within the app's settings and even fine-tune settings tied to specific publications. There is also a widget available that you can place in your Notification Center and the Lock Screen as well.
Home App
The new Home App is Apple's effort of unifying different HomeKit apps into one app, from where you can control your automated home.
When you open the Home app, you will see all your HomeKit-compatible accessories. Many of these come with 3D Touch shortcuts, so you can force-tap and slide on a dimmer app to adjust light levels – to give you one example.
Another interesting feature is called Scenes. This allows you to create sets of adjustments across a range of accessories. This is how you can control numerous HomeKit-enabled devices with a single tap or via Siri command. In addition, Home will be built into iOS' Control Center, so you can control some accessories without open the app itself.
Phone and Messages
The two primary apps on every phone are getting improvements as well. The Phone app gets a single enhancement, and that's voicemail transcription. Apple's mobile OS will be able of converting speech to text, so you can glance through your voicemail without having to listen to it. Several companies, including Google, have tried to implement this option, but it seems like this isn't simple.
When it comes to Messages, this where some bigger enhancements are going to happen. First of all, you will be able to use rich links. This means that when you share a link, it would show a small preview window.
Emojis are now three times the size, and they can be incorporated into a predictive text as well. Apple has gone one step further and even allowed Messages to scan a message you are about to send and highlight all the words that could be replaced with emoji.
Various bubble effect is also included, so you can really shout out if you have some important to say. There are also some gimmicks, like "invisible ink" that is actually a blurred message that needs interaction to be opened.
There is even more. You can now send handwritten messages, use Digital Touch and send your heartbeat, as well as use full-screen visual effects on your messages. As can be seen once again, sending your heartbeat is another nod to watchOS.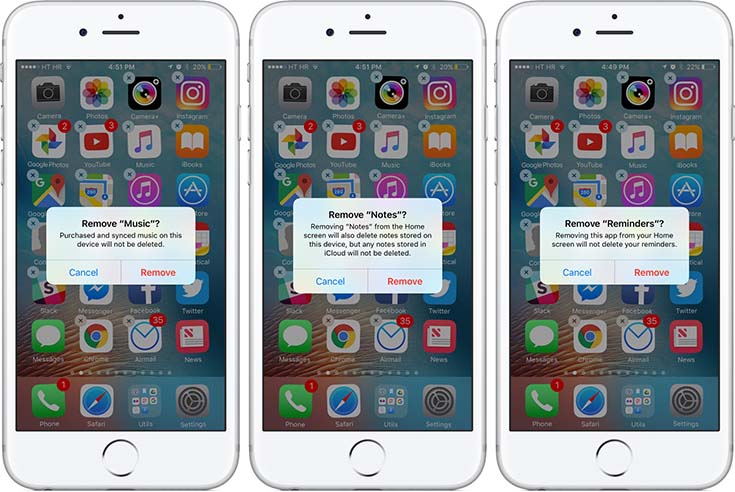 There are also some other small, but very important improvements:
– You will be finally able to delete preinstalled apps, which is something many of were eagerly waiting for.
– Newer iPhones and iPad will be able of taking RAW images with offer a high level of detail. These are typically used by professional photographers who want to edit the photos. On the other hand, they are larger in file size.
– Live Photos now feature image stabilization, which should make your photos clearer.
– The Clock app now has a Wake Alarm and Bedtime feature, which notifies you when it's time to go to bed, and when to wake up.
– Game Center won't be a part of iOS 10 since according to some statistics, only 1% of iOS users are actively using it.
– 3D Touch can be used to rename folders, control downloads, and have Siri suggest recommended apps.
– You can now quick reply to messages using a full-screen pop-up.
Conclusion
It is clear that iOS 10 is big news for both users and developers. While developers will be able to integrate their apps deeply into iOS (which wasn't the case all these years), users will benefit from numerous additions and enhancements to existing apps.
iOS is still ahead of other popular platforms, creating an incredibly strong ecosystem of apps and services, which is its biggest advantage over Android.