Even though the iPad Pro has been officially launched a couple of months ago, it seems that companies have been slow to adjust to the largest iOS tablet. It seems like even Apple wasn't sure if the large iOS tablet is going to be popular, as we wrote earlier. This could be seen from the initial production numbers, which quickly ramped up after initial positive reviews. I think it can be said that the iPad Pro is a fantastic device, and I couldn't really imagine myself going back to the regular iPad. On the other hand, this is the first generation product, so we'll see major improvements soon.
Some of the iPad Pro's flagship features are the Smart Connector that can be used to easily connect to a range of third-party accessories, and there's the Apple Pencil as well. What this means in terms of case design is that we should expect from cases to adapt to these features. In my personal opinion, every iPad Pro case should come with a cutout around the Smart Connector as well as with the Apple Pencil holder. Surprisingly, only one or two protective cases managed to bring these design features.
Macally Protective Case for iPad Pro
In this article, we will be talking about the newest Macally's case for the iPad Pro. The first thing that I will say is that Macally seems to be one of those companies that still haven't adapted to this tablet, but this case does have some qualities that are worth mentioning. I think potential buyers will like the asking price of $25, which I think is the lowest price yet for any iPad Pro protective case. Continue reading to learn more.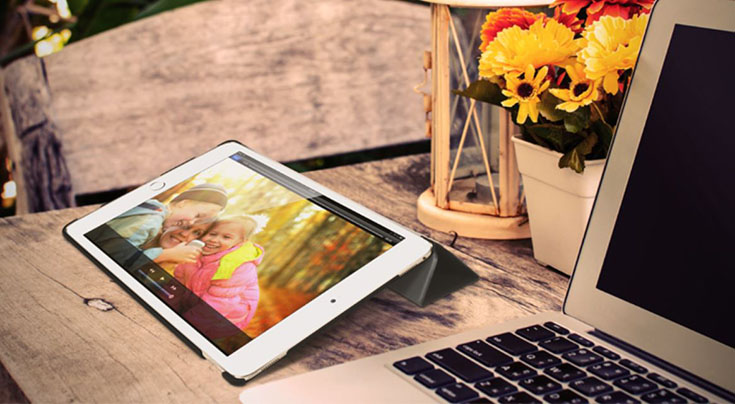 Design
Macally's Protective Case and Stand is a folio case with a folding matte cover and hard shell back. The case seems to be quality made, and I really like the quality of the back cover, which seems to be able to receive a few hits and scratches. There are cutouts around the ports and buttons, so there's no protection around these areas. Maybe a bigger concern here is dust accumulation, which is the number one reason why I don't like traditional shell-type protective cases.
There is also a cutout on the back, around the camera, and the Smart Connector is free to be used, with some slight issues – but more on that later. In general, I believe Macally was inspired by some of the earlier Apple's protective case, especially if we take a look at the cover. In other words, this is basically the Smart Case for the iPad Pro which Apple failed to bring, even though there might be a good reason for this decision.
Functionality
As I said earlier, there's the front cover which keeps the iPad Pro's screen protected. The cover works with the tablet's magnets, and the Sleep/Wake function is supported. The good thing is that there's a microfiber inside the cover, which takes proper care of the screen. Additionally, the front cover can be folded back, so it can be transformed into a stand, with several available viewing angles.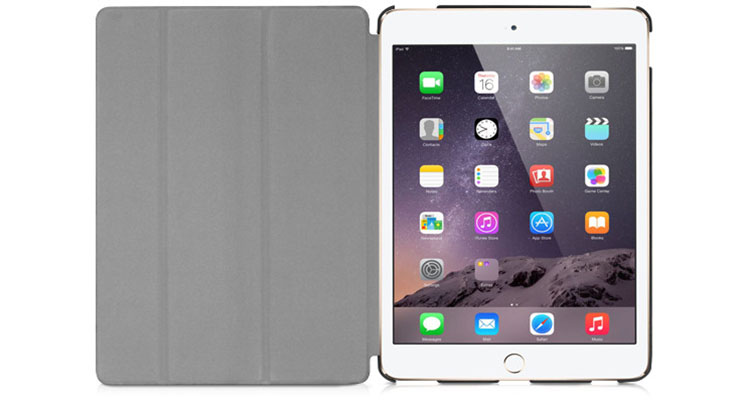 The stand works as expected, in multiple angles. In case you used Apple's Smart Cover in the past, you are going to be instantly familiar with how this cover works. The stand seems very sturdy and the cover can create a reliable and steady connection with the rest of the case.
Even though the Smart Cover is left open and accessible, it can be a bit awkward getting Apple's Smart Keyboard to sit right with the Macally stand – but it's doable. What you will need to do is to fold back the front flap, and then position the iPad until it clicks with the Apple Keyboard. Now that you've established the connection, you can readjust the two back facing covers until you get a steady and firm connection.
This way, you get two non-removable folio covers flopping around, so I guess Macally didn't really think this through because I am sure there's a better way to solve this design issue. However, the bottom line is that you can use the Apple's keyboard without compromising on functionality, so this is not the perfect solution but it is a solution. This also raises the question about compatibility with future Smart Connector-supported accessories. I think it's safe to say that you'll have to be very picky about these, because not all of them are going to work with Macally case, at least design-wise.
Conclusion
Macally's Protective Case and Stand does seem a bit generic, but it gets the job done. The case is able of properly protecting your iPad, while the front cover acts as a stand. The best thing about this product is its asking price of $25, which I am sure will attract many potential customers. This is why Macally's iPad Pro comes with our general recommendation, even though this is not a product for every iPad Pro owner.