I believe that every one of us has a couple of accessories that should be considered essential when it comes to iOS devices. For example, when I buy a newer iPad generation, the first thing that I set out to search for is a protective case. As you surely know, iOS devices are expensive, so it is highly important to know how to protect them. Lucky for us, there are all kinds of protective cases, so you can find the one that suits you the best. The second most important thing is a reliable and functional wireless keyboard. In case you own(ed) an iPad, then you must now that its power can be unleashed in a combination with a wireless keyboard.
Pad & Quill – The Oxford Case
During the last couple of years, I had tested numerous accessories for iPhones and iPads. Somehow, there is one company that I instantly recognize by looking at their products – and that is Pad & Quill. It is actually easy to recognize this company's products since they are handmade and come with the highest grade leather. They look great, they feel great, but they are higher priced than most similar products. However, if you want higher quality and better design, you should be ready a bit more.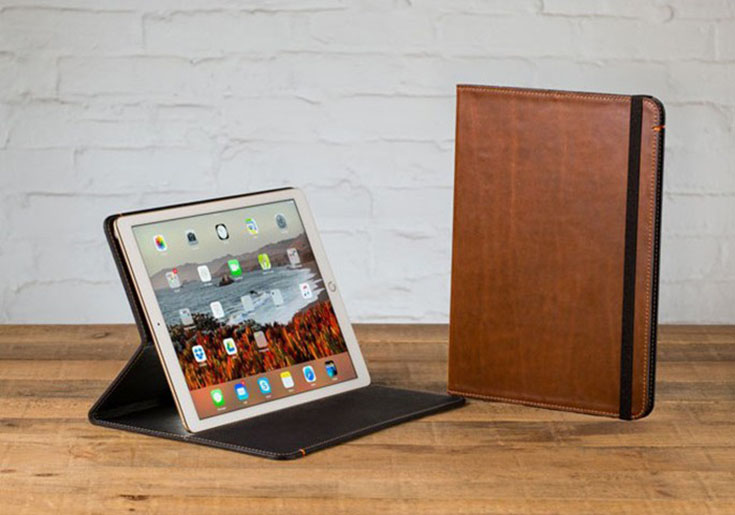 In this article, we will be looking at the Oxford, made by Pad & Quill. This is a premium folio case for the iPad Pro, described as a luxurious case and stand combo with a pocket for the Apple Pencil. This case is priced at $129 and is available for preorder. Continue reading to learn more.
Design
By looking at its outer "shell", we can see that it's made of natural leather. It certainly looks and feels premium. You can choose from two color variants: darker brown (called Chestnut Leather), and lighter brown (called Whiskey Leather). The interior is the same with both editions, and it's also made of leather.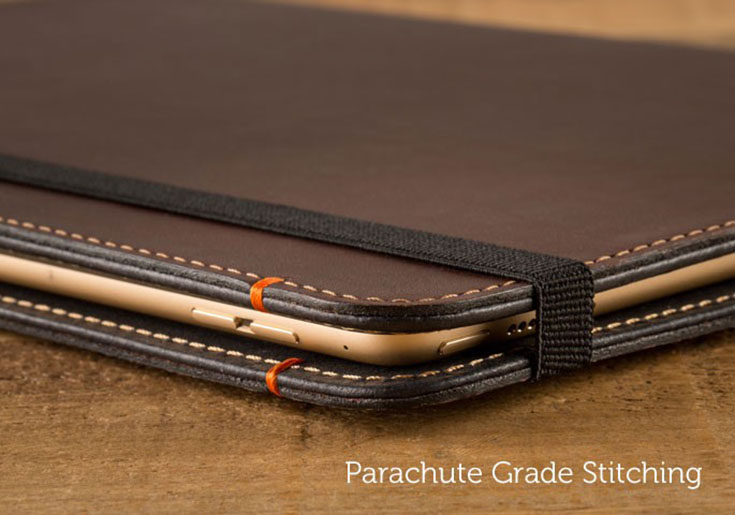 This black, inner leather feels thinner and more refined than the outer shell. The reason for this is the iPad's screen since it is kept protected this way. You shouldn't fear of accidentally scratching the screen. These two layers are stitched together. The orange/tan stitching is clearly visible, but still looks amazing and you can definitely tell that it's done by hand.
As can be seen from the images in this article, there is an elastic band that keeps the front and back cover together. However, the Oxford comes with magnets inside so it takes advantage of the iPad's automatic unlock/lock features, but these magnets don't have any other role.
Installation
The installation is very simple. You need to peel the back of the protective cover and carefully place the iPad on top of it. There is an adhesive that keeps that tablet in its place. What this means is that you can remove the tablet at any time, but it is recommended to keep it installed and only remove it when really and absolutely needed to be removed.
Pad & Quill use a so-called "clean release" adhesive, so you don't have to be worried about residue on the back side of your tablet. In theory as well as in practice – this works as expected. As the company says, the glue should last for years if left alone, which actually tells you how strong this glue is. I tried to peel it off several times, and there weren't any traces of residue. As I said in the previous paragraph, it is not recommended to remove your iPad on a daily basis.
Usability
The Oxford can be used as a stand as well. It can hold the iPad upright or slightly inclined for typing. Simply fold the case backward, where the leather will act as the prop. To hold the iPad in "theater mode", you need to lift it upwards and rest on the lower half of the case.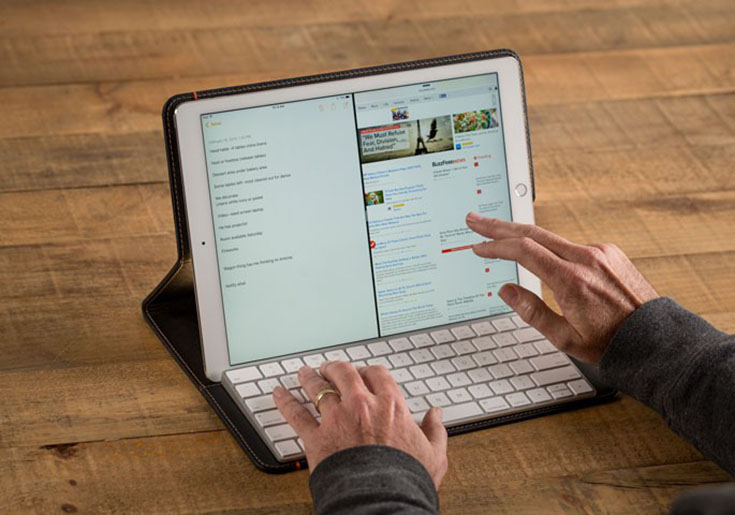 The typing mode is very comfortable and creates a very nice typing environment. The only thing that I would change here are those soft edges, which means that there's no hard connection to the table. There is also one issue with the "theater mode" as well. Even though the iPad is very sturdy and kept in place while pulled upright, this can create a crease in the backside leather. This is unavoidable, so you can expect for this crease to appear, which made me think if there was a better solution.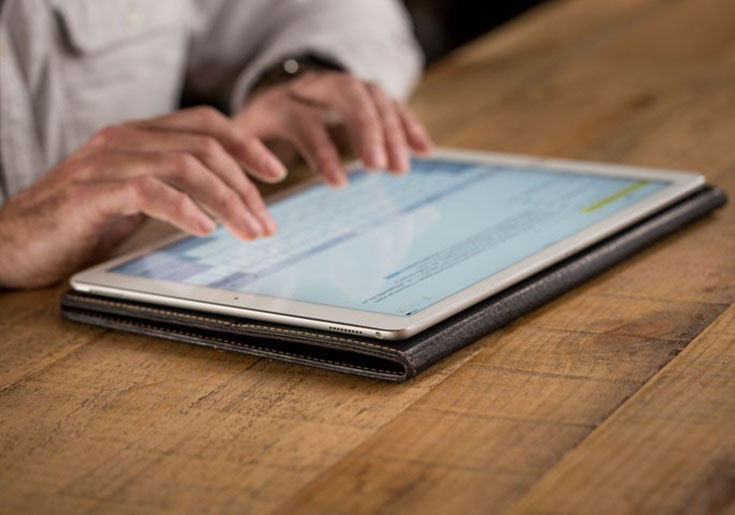 I previously said that the Oxford brings a pocket for the Apple Pencil. Even though there really is one, it doesn't actually offer the best way keep your stylus. The contents of the pocket sit directly on top of the iPad's screen, separated by a thin piece of leather. I believe this is a good way to accidentally scratch the screen, so naturally, I wouldn't recommend using this pocket. On the other hand, it actually works well for thin objects like a stack of paper or a thinner book.
Conclusion
All in all, Pad & Quill managed to bring yet another luxurious and highly-useful iPad case.
This case looks and feels nice, it certainly gives that "premium" vibe, but it also able to protect your iPad in case you accidentally drop it.
Somehow I see the Oxford in a business setting, mostly because of its professional looks. Even though there are a couple of smaller issues, with the unreliable pocket being the most annoying one, it can't be denied that Pad & Quill created an amazing product that I am sure will find its way to numerous users.