When the very first generation iPhone appeared on the market, everyone was amazed by it. You could suddenly have a touch-screen phone using which you can browse the web over Wi-Fi, comfortably send SMS messages, and use its e-mail mobile client which seemed to be powerful as some desktop clients. When you remember that time, you can realize how the iPhone was actually quite limited, and how it grew over these few years. It seems that now we expect and demand from Apple a new version of iOS every single year, with new features and overhauled aesthetics. But even though iOS evolved quite a bit, Mail app remained fundamentally the same. Sure, there are some new features, but it is equivalent to e-mail clients on any other operating system, where competition is at its peak at the moment.
Since Mail app failed to bring anything new, innovative or interesting, some 3rd party iOS developers made their own apps and this proved to be a huge success. One of those apps is called Mailbox, and this is currently one of the most popular iOS e-mail clients, right next to Apple's Mail app. I have been a user of Mailbox ever since it came out, and I've never switched back to Mail. Now let's see what this app has to offer.
[ad name="Google rechthoek"]
Mailbox works only with Gmail and iCloud accounts, which is currently a limitation, but developers stated that they will bring other IMAP accounts very soon. Still, if you use several Gmail addresses at the same time, you can use all of them to sign-in and combine them into one inbox.
As you would expect, Mailbox offers unified inbox that holds all your messages. Now, the real change from the Mail app can be seen in a way that you can manage those messages. If you see a message that you're not going to need, you can hold on that message and swipe right just a little bit and it will turn green so if you let go, that message will be achieved. If you continue swiping, it will turn red, so a message will be deleted.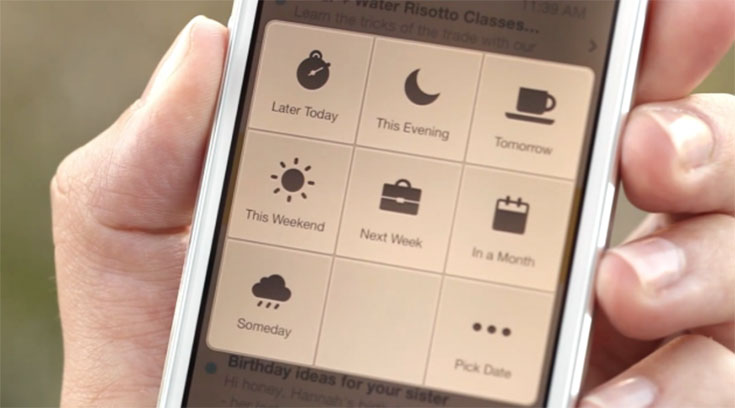 Therefore, as said, by swiping right you can achieve or delete a message. But if you swipe left, you can snooze it. Snoozing a message means it will disappear from your inbox for a certain period of time, and you will choose how long that snooze period is going to be by swiping left which will make a new grid pop-up. This grid will show you options like: later today, this evening, tomorrow, this weekend, next week, in a month, someday, and pick a date. As you can see, you can make a certain message disappear and come back any time you choose. Mailbox comes with very detailed preferences, so you can fine-tune all of these snoozing options. Once it's time for a message for reappear, you'll receive a new notification on your iPhone.
In my opinion, Mailbox currently beats Apple's Mail app in many aspects. But it also comes with some downsides. For example, only Gmail and iCloud users can use it at the moment. Also there's no "Save As" field, even though you can use multiple e-mail addresses within Mailbox. As you can see, there's some room for improvement, but the current version of the app is more than capable and I am sure you're going to make it your default e-mail app.