In case you like to follow our reviews right here on Just Good Bites, then you already know how developers and designers are always competing in coming up with the most unique concept. This applies to iOS apps and games, but the same could be said for iOS-related accessories as well. Since the competition is tough, companies need extra something to make their products more visible and attention-grabbing. In today's article you will learn about one of the most interesting battery packs, which almost sounds too good to be true.
I am sure you've already heard about solar-powered battery packs for your phones and tablets. I don't know what is your experience with these products, but I didn't have much luck in the past. The idea of having a solar-powered battery seems great, especially if you like to spend a lot of time outdoors, maybe camping or something similar. We already brought you a couple of reviews of solar-powered batteries, where these actually felt like first-generation products in every possible way. However, things are about to be changed.
In case you are following Apple-related news, you have probably heard about SolarTab. This was initially a Kickstarter project that launched back in April 2014 and quickly met its quota. However, the final product started. arriving only a few months back due to complications with production. The good news is that the end product looks and functions according to the initial idea, which means that guys behind SolarTab managed to make their idea and concept a reality without having to compromise on anything.
SolarTab ($120) is the latest solar-powered battery pack, with a relatively big 5.5W solar panel placed on a thin 13,000mAh battery. It actually looks like the original iPad, once placed in a leather case. As you can see from the photos in this article, SolarTab is a battery that is shaped like an iPad, but which is attached to a case, so it actually looks like a notebook. This is actually one of the most elegant batteries that I tested, and it is also highly travel-friendly. The SolarTab is enclosed in a case that is very similar to Apple's Smart Cover for iPad. I am a huge fan of this design, since high-capacity batteries are usually quite bulky and they come with odd dimensions. This way, you can easily carry the battery alongside your iPad, and it is also travel friendly in terms of its shape. The cover also has a very important practical role, since it protects the solar panel against damages and scratches, but also allows the product the be placed in three directions for the best sun exposure. I only wished to see the cover being removable. Since it is glued to the battery, you can't remove it in order to wash it, for example. However, this certainly is not a deal breaker.
By looking at its sides, you will see that SolarTab comes with two USB outputs, which are accompanied by two LED charging indicators. The outputs can charge your iPhone 6 in about two hours, or you iPad Air 2 in a bit over four hours. This is slightly higher than what the manufacturer stated. In addition, the battery brings a micro-USB input port with a charging indicator as well. On the other side, you will see the power button, battery indicator (which tells you how much juice there is left), as well as solar charging indicator.
The SolarTab is a solar-powered battery, which means that it creates its own electricity which is being stored within the product. On the other hand, you can always charge it the old fashioned way, from your wall outlet – in case there's no sun. It provides the same amount of power as a 5W USB adapter. The battery inside the solar panel charger has a capacity of 13,000mAh. Your iPhone 6 comes with a 1810mAH battery inside, which means that SolarTab can recharge it up to seven times. On the other hand, the iPad Air 2 comes with a 7340mAh battery, which tell you that the SolarTab can provide up to 170% of additional power. These are astonishing numbers, and SolarTab is actually one of the highest-capacity batteries currently on the market.
What is important to be said is that SolarTab actually works as advertised, in contrast to numerous solar-powered batteries we tested in the past. Just leave the solar panel in direct sunlight, and you will always have enough juice to recharge your iPhone and/or your iPad. In addition, using a USBA to USB C cable, you can power the new MacBook, for about double of its usual battery life.
I have been using SolarTab for about a week now, and I also had a pleasure to take it for a two-day camping trip. Initially, I was quite hesitant about this product due to my past experiences with solar-powered chargers. However, I have nothing but positive things to say about SolarTab. This battery was a saver during my camping trip, and not only for myself but also for my friends. It does take time for the battery to be fully charged, but you have to place it under the direct sunlight and pretty much forget about it. In the evening, a few of us fully recharged our iPhones, and it took a bit short of two hours for the phones to be fully recharged.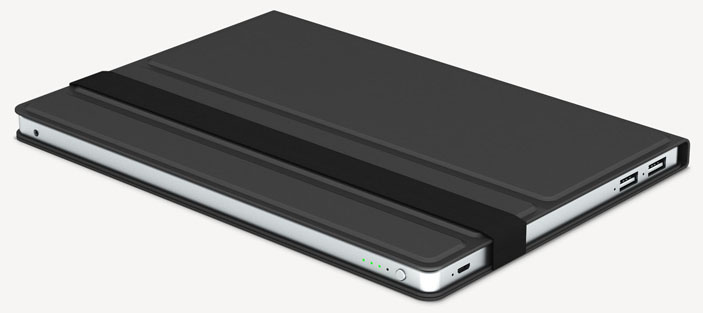 I would recommend SolarTab to anyone who needs to have a reliable battery pack that can be recharged by itself. This means that this product is great for those who spend a lot of time outdoors as well as those who don't have a reliable access to electricity, but depend on their phones – like in some professions. This is currently the best solar-powered battery pack that you can find.