In case you visited the iOS App Store during the last week, you must have noticed a newly released game called Clash Royale. Actually, I am pretty sure you've seen numerous ads around the Web as we slowly approached the release date. With this kind of a blown-out advertising campaign, I am sure that millions of you already tried this game, even if this is something that you wouldn't normally do.
Review: Clash Royale
I have entered the world of this game as someone who spent a lot of time playing Clash of Clans. I must admit that I spent dozens of hours trying out this still highly popular title until I decided to quit and uninstall it because to its ever-growing demand for money. I was sure that Clash Royale would be pretty much the same, but I am glad to say that this game is actually very good and surprisingly addictive.
I would like to stop for a moment to praise the way Supercell released their games. Instead of trying to create numerous similar games with a formula that is proven to bring a lot of money, this development studio is ready to take a risk. This studio has only seen three releases hit the App Store, and all of them scored a major success. These are Clash of Clans, Hay Day, and Boom Beach.
Even though their core is quite different, there are a couple of things that are in common for all three titles: high level of addictiveness and amazingly designed graphics.
Clash Royale is a mini-mobile MOBA, thanks to its multi-lane battlefields with two towers and a base. However, the RTS and MOBA elements are greatly simplified and easy enough to be played on handheld devices.
This game can be explained through several different ways, but I think the best way to explain it is through its MOBA elements and card collections.
Every level brings the battleground where you compete in real-time against your enemy. The goal is to destroy more than your opponent does. However, these matches are fairly quick and they will take about three to four minutes of your time.
The battleground is static and you see all of it without scrolling and swiping across the screen. Having an arena like this one means more tactics for you to explore. Even though you might feel limited at first, you will soon see how much content and gameplay this game possesses. You will soon realize that studying your opponent's moves and tactics is the only way to win.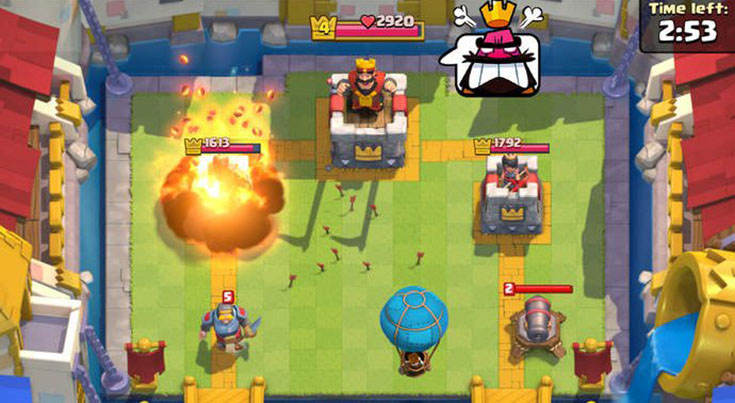 You take eight units into the battle, so you will have to choose eight cards. As you rank up, there is going to be a number of cards to choose from, which adds to the overall complexity. You can put cards in and out of your deck as you get access to them, as well as upgrade the existing cards. This is where the core concept of this game can be found. The game uses a very clever system of a rock-paper-scissors-like concept, where even the strongest units can be easily defeated by a lower card if chosen and used at the right time. Additionally, their strength is kind of cyclical since groups of small units can be easily defeated with splash damage. Then, splash damage units can be defeated by flying troops, but then again, flying troops can be defeated by small missile units. With this said, you can't expect to find a match simply by having eight fully upgraded cards. Instead, there are numerous small decisions in positioning and timing that can help you win the fight.
As you can see, gameplay in Clash Royale is focused on two things: cards, and the in-game currency needed to play them. As said before, you will get to choose eight cards before going into the fight. However, you will be able to use only four of those at first. When one card is spent, another is drawn from the deck to take its place.
Upgrades and units can be enhanced with chests filled with gold and cards. However, you can only have four chests at once, where opening one takes up to twelve hours. This is where you will encounter the paywall. To take the timers out, prepare to pay with real money.
So, as can be seen, winning matches is tightly connected to getting as many treasure chests as you can. Most victories will earn you a silver chest, which doesn't take as long to open – about three hours. Gold chests can make you wait about twelve hours unless you decide to pay with real money. Additionally, you can only have four chests ready to be opened. This means that once you win four times in a row, there is no reason to continue playing. Even though this might sound like a huge paywall, this is actually a very good reason to balance out new and experienced players.
Even though Clash Royale can be played without paying, you will need to have a lot of patience. In addition, prepare to lose many battles. However, if you truly enjoy the game, spend a couple of dollars. The only problem here is that you will encounter another paywall sooner or later.
Clash Royale is a genuinely fun and highly addictive game. The battles are quick and fun, and they really demand your full attention. Even more, it takes a lot of thinking and strategizing to figure out the best possible strategy. Once you finally begin to think that you figured out this game, you will encounter an opponent with a completely different strategy that will throw your heroes in the water.
Clash Royale can be downloaded from the iOS App Store, free of charge. As explained, the game comes with in-app purchases. You can play Clash Royale on iPhones and iPads, where the bigger screen does feel a better.
I sincerely hope you will enjoy in this game, without spending a lot of money.
[vsw id="HAB6OPF9EhQ" source="youtube" width="735″ height="367″ autoplay="no"]