Even though many of us believe that iOS games can't be as addictive as console games, I strongly disagree with that. Sure, there are a lot of great endless runners and match-three puzzles, which are great for any mobile platform, but you can also find some incredibly intricate games on the iOS App Store. Continue reading to learn more about a game that does not only bring amazingly designed visuals but also teaches you about a whole other culture.
A small, independently-produced video game called Never Alone is created in partnership between an Alaskan Native community and industry veterans. This game was released for PC, Xbox One, and PlayStation 4 a couple of months ago, but now it's available for iOS devices as well. Continue reading to learn more.
Storyline & Concept
The storyline is perhaps the most interesting part of Never Alone. The main plot involves a girl named Nuna who finds a companion on her journey back home. However, she discovers soon that her village has been destroyed. You have to set out on a quest to find out who destroyed the village, as well as to find the source of the eternal blizzard that is destroying the Arctic.
As said before, this game was created in cooperation with the Iñupiaq community. The voiceover narration in Iñupiaq goes a long way to making the game feel authentic, and not like just another interesting fable. Even though you can read subtitles, you will see members of the community speaking about their life and teaching you something valuable about their culture, so you can really feel their emotion even without understanding the language. This is a big part of Never Alone, as you will be always looking ahead and fighting your way towards the next history lesson.
That's right, this game is full of history lessons. People from the Cook Inlet community talk about how it was like to grow up in the region's unforgiving cold. You will hear stories about hunting, long dark nights and other facts of Alaskan native life.
Visuals & Performance
When it comes to visuals, Never Alone is quite captivating. I can't remember the last time I was impressed by a game as much as I was while playing this charming title.
The game features a beautiful art style that seems inspired by hand-drawn paintings. And while the game is a pure 2D platformer, there are numerous subtle details that provide a bit of depth. The colors are very rich and vibrant, but also soft and gloomy at certain parts, depending on a given atmosphere. The music is calm and soothing as well, so I recommend grabbing headphones or earbuds, so you can fully immerse yourself into the game.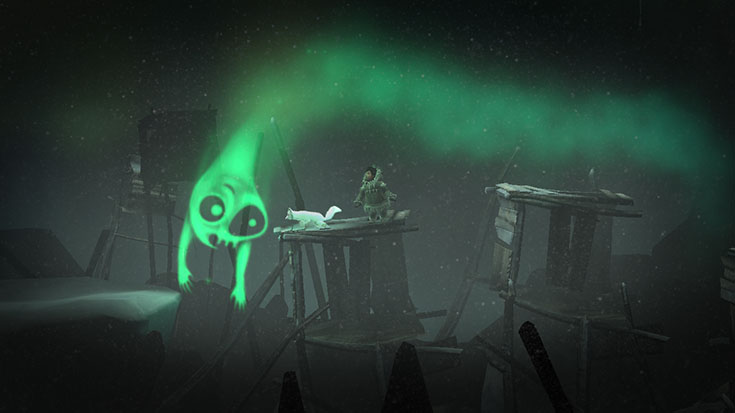 I also need to praise this game's performance. Even though there is a lot going on the screen, Never Alone runs without a single glitch. However, I did encounter a few user reviews which complained about frame rate issues. I tested the game on the latest iPhone generation, which is maybe why I didn't have any problems. In case you use an older iOS device, my recommendation is to contact the developer.
Gameplay
In terms of gameplay, Never Alone is a fairly standard platformer. You will follow Nuna and Fox as they run and jump across numerous obstacles, using each one's unique abilities to solve a certain problem. In addition, Nuna and Fox have complementary skills, so it's important to understand how both of the characters can be used. For example, Fox jumps much higher and can easily climb a wall, while Nuna can push and pull objects and wield a bolo weapon.
As said before, the gameplay involves controlling two characters and quickly switching between them. In the left bottom corner, you will see a virtual joystick, used to move your current character left of right. There is the "Switch" button, used to switch between Nuna and Fox. As you make progress, you will receive additional powers and controls, so you will see more action buttons being available.
Since Never Alone is a puzzle-platformer, the game is split into several chapters and levels. The levels are quite lengthy, so it might take some time until you reach key checkpoints. However, since there are no stars or scores, you can take as much time as you need to solve the puzzles.
Points of Improvement
Even though Never Alone is unbelievably good looking and charming, there are still some spots that could be enhanced a bit. For example, controls sometimes seem a bit overly sensitive, especially when you have to jump onto a very small platform. However, there are really tiny problems and they don't affect the overall atmosphere.
In addition, you will encounter a sharp spike in difficulty just before the final scene. This can be very frustrating since it goes against the mellow atmosphere of the game. This last chunk is a series of puzzles where you have to frequently switch between the two character, but this needs to be done in an instant. However, you can look at this as the final step in finding out how the storyline will finish.
Conclusion
I recommend downloading Never Alone: Ki Edition is you are a fan of captivating storytelling and if you have enough time for those lengthy levels. However, the game isn't as long in its entirety, about 6 to 7 hours. Still, you will get to learn a lot about Alaskan native communities, and you'll have plenty of fun time trying to figure out different puzzles.
Never Alone: Ki Edition is priced at $4.99, and comes as a universal download for your iPhone and iPad. It doesn't contain any in-app purchase options.