With the newest iPhone generation, Apple brought us one of the most exciting new features that already changed the way we interact with our iPhones. 3D Touch is a well-known way of input for Apple Watch users, but note that there are two different ways of input. Your Watch can recognize two degrees of pressure, a standard tap and a Force Tap, but your iPhone is equipped with an additional pressure sensitivity.
3D Touch has just begun with its development path, and we are sure Apple will make it more useful via new iOS updates. On the other hand, developers have already started upgrading their apps with support for this technology, which created a whole new way for us to interact with their iOS apps.
By default, every iPhone 6S and 6S Plus already come with 3D Touch enabled. However, you can find a set of additional settings under your Settings app > General > Accessibility. This is where you can enable/disable this input method, as well as adjust touch sensitivity.
We are bringing you a few interesting ways of how to utilize 3D Touch, so continue reading to learn more.
[vsw id="cSTEB8cdQwo" source="youtube" width="800″ height="400″ autoplay="no"]
Preview and Adjust App Shortcuts
While on your Home screen, do a hard press on the icon for the Phone app and you will see a list of your favorite contacts as well as the ability to create a new one. The same goes for apps like FaceTime and Messages. However, you can edit these shortcut menus, which can save you a lot of time on calling and messaging your favorite contacts.
For the Phone app, you need to open the Phone app and tap on "Favorites" from the main menu. The first three entries will appear as a shortcut on the Home Screen, so you will need to rearrange them. This can be done by tapping on "Edit" and moving the entries around. If you want to add someone to this list, find the relevant entry in the Phone app, and tap on "Add to Favorites".
On the other hand, apps like FaceTime and Messages are functioning differently. After applying 3D Touch on the FaceTime app, you will see the three contacts you've talked to most recently. When you call someone else, you will get to see their information in the shortcut menu. When it comes to the Messages app, the shortcut menu will show contacts to whom you tend to message the most. We hope Apple will allow us to edit these menus and make them more useful.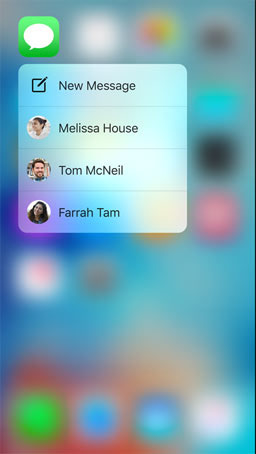 Peek and Pop
This is one of the most advertised features of 3D Touch, but we will take a minute to explain this feature in more detail.
Peep and Pop is a linked pair of input methods that allow you to preview contents of an email, message, document, web page, and similar. Once you tap and hold to preview an item, you can "pop" it, which will open it in a relevant app, where you can edit it or make other changes.
When it comes to the Mail app, you can do a firm press on an email message, and a preview will be shown. This happens without opening the message in full. If you press even harder, you will see the entire mail message, so when you release your finger it'll go back to the screen you were on previously. You can even swipe upwards for a menu of quick actions, so you can reply to a message, forward it, and more.
When you're in Safari or Mail, for example, you can hard-press on a link to preview it. If you continue pressing, you can even open it in a browser.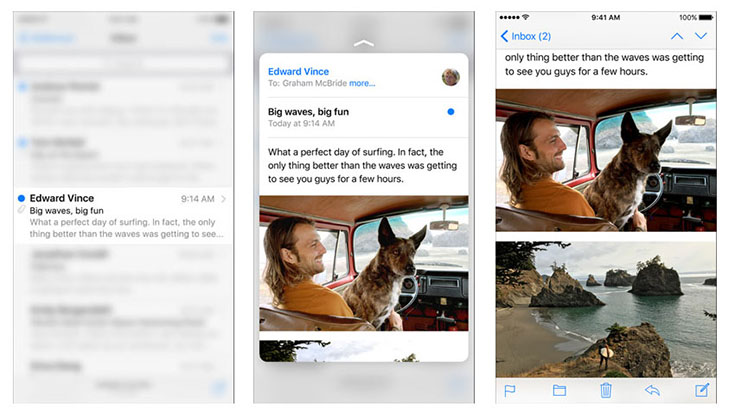 Precise Cursor Control
This is probably one of my favorite things when it comes to 3D Touch, and it actually saves a lot of time and makes selecting a piece of text easier and more intuitive than ever.
You can hard press on the system keyboard while using any iOS app, and you will take control of the cursor. As you will see for yourself, the keyboard with go blank, so you can move your finger around and precisely control the cursor. This action seems essential for anyone who works in text editors on their iOS devices.
Switch Between Apps
In case you like to use multiple apps at the same time and switch between them by double-pressing on the Home Button, there is now an easier way to do this.
Do a hard-press close to the left edge of the screen and you will see the screen edges of your previously used applications. If you press even harder, you will be taken to the multitasking view, where you can easily jump to a recently open app. This is basically the same action as double-pressing the Home button.
Activate Live Photos
Every time you see a live photo, you can do a hard-press to activate and play it fully. You will generally get a hint when this is available in a form of a brief animation or set of concentric circles.
In case you don't have any live photos yet, you can practice 3D Touch on dynamic wallpapers. Once you set an animated wallpaper, you can press on the screen to see it play.
Take a Quick Selfie
Just like the Phone app, and well as many other Apple-made apps, you can access the shortcut menu if you hard-press on the Camera App. This will allow you to take a selfie, but you can also choose to record video, record slo-mo, or take a photo.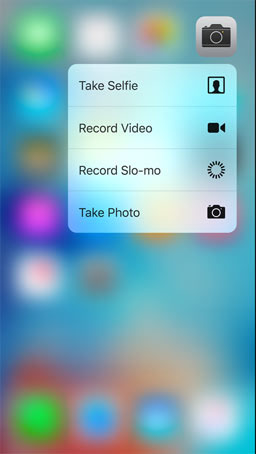 Get Driving Directions
When you hard-press on the Maps app, you can choose to get driving directions to your home. This is an easy way to open the Maps app and navigate your way home, and surely saves you a few unnecessary taps. Other available options are: Mark My Location, Send My Location, Search Nearby.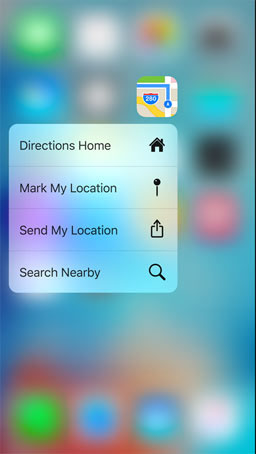 We are sure that developers will take advantage of 3D Touch very soon, which could open up a whole world of interesting actions. In case you find something interesting, make sure to share with us, and we will share that information with the world.