The long-awaited iPhone SE has finally arrived. This time, we knew what to expect prior to this year's Apple's March Event, which didn't leave us surprised. However, even though numerous rumors were true, we still waited on testing the real phone instead of on jumping to conclusions based on individual specs. So, without further ado, let's see what the iPhone SE has to offer. Continue to read JustGoodBites' iPhone SE Review.
The iPhone SE Review
The iPhone SE is Apple's low-end iPhone, starting at $399. The main differentiators of the new model in comparison to the current iPhone generation are its design and screen size. The phone actually looks indistinguishable from the iPhone 5s, but don't let this fool you. Inside you will find the latest generation processor, capable of running even the most demanding games.
So, you might be wondering why did Apple decide to release a phone like this one? As can be seen, having one iPhone isn't enough anymore, and it seems like the company is more than willing to try and reach different markets. The iPhone SE is designed for those of you who like smaller phones, as well as for those of you who are on a budget. However, now you don't have to make compromises since you will get the phone that will be able to keep up with iOS in the next two and more years.
Those of you who are interested in the latest innovation from Apple, the iPhone 7 is the still the best choice.
Design
I am sure that the iPhone SE will create polarizing opinions. Today, most of us are about having the latest phone and the latest possible design. This means that returning to an older design, no matter how good it is, can be seen as a step back in today's market. I personally like how the iPhone 6/6s looks like, but I was also very fond of using the iPhone 5s. Since I have big hands and I like to use a larger-sized phone, I am forced to go for the iPhone 6s Plus. However, if there was a choice between the current rounded version and the iPhone 5s-like version of the biggest phone, I couldn't clearly say what I would decide.
The iPhone SE comes with the classic design, complete with a four-inch screen, chamfered edges, and the aluminum and glass back. On the side of the phone, you will find the same circular volume buttons and mute switch, while the lock button is once again on the top. The bottom side brings a 3.5-milimiter headphone jack (what about those rumors saying that headphone jacks will disappear?), Lightning port, and grilles for the speaker and microphone.
I think there's one clear benefit of having a phone with sharp edges. Because of this, the phone will allow your hand a better grip. I am sure many of you will appreciate this, considering how the newest iPhone generation can feel slippery.
Continue reading our iPhone SE review for information on performance and specs.
Performance and Specs
The iPhone SE comes with the same A9 processor as the iPhone 6s. Numerous third-party benchmarks showed that both devices are running at same clock speed, with both using 2GB of RAM.
When it comes to real-life use, you will see that this information is true. If you place the two phones side by side, you will see that opening apps, scrolling, and opening multitasking view feels identical on both phones.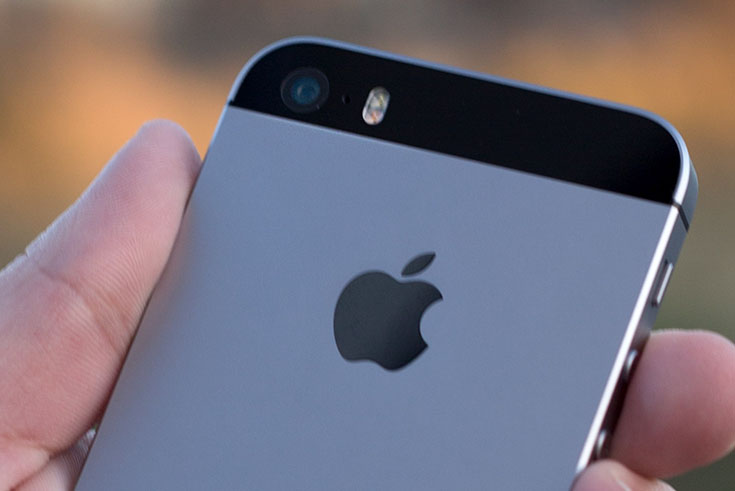 This wouldn't be a proper iPhone SE review if we didn't take a look at the rear iSight camera. The shooter on the iPhone SE is identical to the one found on the iPhone 6s. However, now you can use the Live Photos capability which was until now reserved for the 6s series. The photos are incredibly crisp and sharp, with amazing color reproduction. You can also shoot 4K videos, which is putting this phone ahead of the iPhone 6, released in 2014. However, if you buy the base model (with 16GB of storage), I don't think you are going to enjoy recording 4K videos as much.
This model also has some other interesting features and some of those are Apple Pay support, 802.11ac Wi-Fi, and Bluetooth 4.2. Additionally, it supports Wi-Fi calling with compatible carriers.
Battery Life
According to Apple, the iPhone SE can provide you with 13 hours of Internet use while on LTE, which is three hours more than with the iPhone 6s. For out iPhone SE review, we made sure to test this claim.
We used an iPhone SE and iPhone 6s throughout the day on both LTE and Wi-Fi, and for several days in a row – the iPhone SE managed to beat the flagship model.
In case you really care about longer battery life, our strong suggestion is to considering purchasing this model.
What's Missing?
As you can see by know, we are pretty impressed by the Apple's newest iPhone. However, there are some things that are missing. For the price of $399, some compromises needed to be made.
What is not identical to the iPhone 6s is the Touch ID sensor. It takes longer to access the smallest iPhone using the fingerprint reader. This is because the company decided to use an older generation of Touch ID.
The second thing is the screen. It seems like the screen on this model is identical to the iPhone 5s' screen. When placed side by side with the iPhone 6s, you can clearly see the difference.
What is completely missing is 3D Touch. I believe this is an amazingly helpful feature, and I can't imagine myself using a phone without 3D Touch.
Conclusion
The iPhone SE, as we said earlier, with creating polarizing opinions. However, I believe that this phone will find its place on the market and that it'll reach millions of customers.
In case you don't really care about the latest innovation from Apple, but still, want a smaller and highly capable phone, then I suggest considering the iPhone SE.