If you're into physics-based puzzles, you have probably played one of the incredibly popular iOS games. With over 750 million downloads throughout the entire franchise, Cut the Rope is one of the best-known as well as one of the most popular games of this genre. Interestingly enough, it seems like people are joining two teams: one that loves playing Om Nom's adventures, and the other team that strongly follows Angry Birds. After all, these two games are very similar in their core, and they both present a great way to spend some free time. Even though I feel that Angry Birds games are more popular, I am still rooting for a small green monster and his candies.
The newest game from this franchise was released a bit over one week ago, and I've been playing it ever since. The good news is that On Nom is back and he is as cute as before (maybe even cuter than before thanks to overhauled visuals), and that Cut the Rope still manages to bring challenging and addictive gameplay. Continue reading to learn what you can expect from Cut the Rope: Magic, as well as if there are any new elements.
Art Style
When it comes to the art style, Cut the Rope: Magic looks very similar to any previous title from the franchise, but it feels like visuals are now more polished and 3D-like. Since this game is all about magic, you can expect to see a lot of particles flying around the screen. The colors are as bright and cheerful as ever, with the gorgeous backdrops nicely complementing the art style. I like the fact that Cut the Rope looks a bit refreshed, as well as how the new art style almost looks 3D without actually being 3D. There is a great sense of lighting throughout the game, which works really well. What also needs to be mentioned is the amazing performance. I've been playing this game for about a week now and haven't experienced a single performance issue.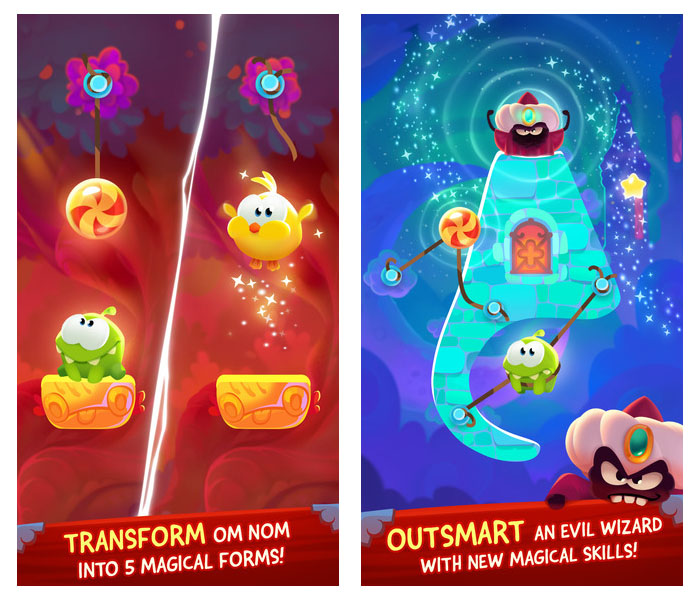 Gameplay
In Cut the Rope: Magic, Om Nom has to deal with an evil spider wizard, who has stolen the precious candies. Your goal is help the main character retrieve the candies, which will ultimately lead you towards the spider's book of spells. Just like before, you will have to go through stages one-by-one, earning up to three stars on each. The objective is to guide the candy towards On Nom's mouth, in addition to a new feature that appears in this sequel. Now you can transform and shapeshift the character into five different forms (bird, baby, mouse fish, and spirit), with each form having a special ability to help you reach the candy. Additionally, you can find stars scattered around the stage, where certain number of stars will earn you gifts. These are usually gems and additional hints.
In comparison to the previous titles from this franchise, Cut the Rope: Magic seems a bit more relaxed. You can take as much time as you want to solve each puzzle, stress-free. The levels are still nicely designed, in terms of how challenging they are, even though there are still some deviously designed levels that will require a lot of planning and different tries in order to succeed.
Controls
The controls in Cut the Rope: Magic are simple and intuitive. In case you played any previous game from this franchise, you'll see that everything remained the same. The piece of candy is attached to a rope, or it can be found floating in some magic dust. Your goal is to cut the ropes in the correct order. To activate On Nom's special power, just tap on the button in the bottom left corner. The five forms are available depending on a chapter you are in. For example, a mouse thinks the candy is cheese, so it follows it around. A bird floats above the grounds, a fish can swim through numerous water-filled levels, while a ghost can let objects pass through its body. What is also welcome are the new mechanics. One of my favorite ones is a tunneling mechanic where you can use your finger to create a path so candies and characters can pass through.
Price / Monetization Method
Now, let's talk about a monetization technique that was used in this game. Even though the game is priced at $0.99, there are still in-game purchases for getting virtual money. This can be spent on additional hints. It seems like it is a bit harder now to succeed on your own in this game, which wasn't the case with its predecessor. I feel a bit disappointed to see this game straying away from something we all love, in terms of getting all the content for the price of the game. On the other hand, you can still find solutions for those difficult levels by searching on Google, so there is a way to keep your money and only spend the asking price for downloading and installing it.
Cut the Rope: Magic – Conclusion
As I said in the introductory paragraph, I have been a fan of Cut the Rope ever since the original game. However, my opinion is that Cut the Rope: Magic is the best title yet from this franchise. The game is an absolute joy to play, in addition to even better visuals that look great on any iPhone's or iPad's screen. On top of all of this – the incredibly smooth gameplay is making sure that everything looks and feel great.
In case you've been waiting for a spin-off, I highly recommend downloading Cut the Rope: Magic. Even if you never played this franchise before, I guarantee you're going to love it.
[vsw id="Yoxax1OUOss" source="youtube" width="734″ height="370″ autoplay="no"]