The newest iPhone generation was released a month ago, which means that many of us are still searching for the next great
protective case
to cover our phones and keep looking brand new. Just like the previous generation of iOS devices, the current one is pretty spectacular in terms of their design and performance, so naturally, many of us like to keep our phones looking new for some time. Additionally, iPhones are not the most affordable phones around, which is yet another reason to take proper care of it.
Choosing the right protective case isn't as easy as it might seem, especially if you want a case that you're going to use on a daily basis. First of all, you need to find the right design and choose from different case types. You can choose between classic shell-type cases that wrap around your
iPhone
, all the way to rugged cases that provide protection against different scenarios. In addition, this goes hand in hand with choosing from different materials that can range from clear silicon to all-natural wood.
In this article, we will be looking at Moshi's iGlaze Armor, designed to keep your phone stylish and protected at all times. This is one of the newest cases made by Moshi, and since I have very positive experiences with this company, I was very happy to try it out. This is actually the latest case from a family of iGlaze products, known for their interesting designs and all-around protection. Continue reading to see how
iGlaze Armor
is designed and what it can offer in terms of protection.
Looks and Feel
Moshi's iGlaze Armor is a traditionally designed shell-type case, meaning that this is a simple shell that covers your phone from all sides except the front. The
installation
is very simple, where all you need to do is to gently push your phone until its clicks in its place. To remove the phone, the best is to use a hole around the Apple logo on the back, to give your phone a gentle push. Interestingly enough, iGlaze Armor is constructed with Moshi's proprietary "hybrid" formula, which protects your phone from scratches with a force-absorbing inner shell made of polycarbonate. There is also a lip around the screen to keep it protected when you place the phone face-down. As always, I recommended purchasing a screen guard film to keep your phone protected from all sides and angles. In addition, the case offers a raised button protection, which works without any issues. There are cutouts around the ports, where the Lightning port cutout is generous enough to allow you to use third-party charging
cables
.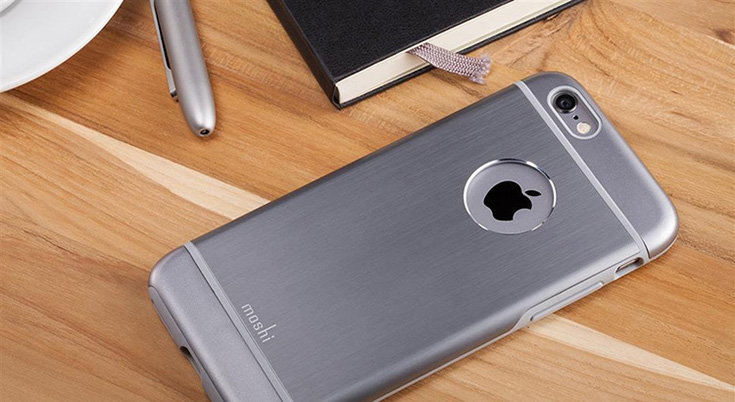 I assume there will be many potential customers who are not going to like the cutout around the
Apple
logo. However, I don't mind looking at this cutout when it comes to this particular case since I think it really fits the overall design. What also needs to be highlighted is that this hole can (and should) be used to remove the phone from this case, where all you need to do is to gently push the phone until it pops out. The ability to effortlessly remove the phone is actually quite important. Since the bottom
protection
is present, this means you won't be able to use the case with third-party hardware such as alarm clocks and speakers. If you are wondering if you'd be able to use third-party headphones and Lightning cables, I am glad to say that the cutouts are generous enough to support this. 
What I especially liked about this case is how it tries to mimic the iPhone's style. The back side comes with the diamond-cut aluminum plate, so it actually feels like holding your phone. By looking at the case from a distance, you can hardly notice that the phone is covered by iGlaze Armor. Additionally, iGlaze Armor looks great and won't completely hide your iPhone's award-winning industrial design. However, differently, from the previous iGlaze generation, you won't be able to choose from additional colors. I know that there are a lot of people to liked colorful looks of the previous generation, everything from deep reds to green, and such. With this particular case, you can choose from three color options: gold, silver, and space gray – where all of them fit with the
iPhone 6
well.
Protection
Even though I haven't actually tested how much force this case can handle, I am positive that iGlaze Armor can keep your phone safe in case of an accidental drop. The case seems very quality made, where the backplate is made of
aluminum
, which provides great protection. The company says that a shock-absorbing inner shell is there to take on any force that might be made in case you accidentally drop your phone, so it doesn't get scratched and dented. Based on my previous experiences as a reviewer, I would say that iGlaze Armor is at the upper price range of medium-protective cases, but this one stands out thanks to its Apple-like design.
Moshi iGlaze Armor – Conclusion
After using iGlaze Armor for about a week now, I have to say that I quite like it. If you are looking for a shell case to keep your phone protected, look no further than Moshi's iGlaze Armor. It checks all the right marks, and there is actually nothing negative that can be said about this
product
.
It is clear that Moshi released great-looking cases, once again. The case quickly grew on me, and I believe it will find its way to numerous customers who are looking for an elegant and lightweight case that also offers some protection. Sure, there are cases that offer far greater protection, but then we would be looking at a whole different product category.
You can order iGlaze Armor from Moshi's official website for $39.95, but you can also find it at various online retailers.