A couple of years ago, we could only count on simple games to run on our phones. However, things have dramatically changed since now we can choose from numerous high-quality big-name titles. In addition, indie developers are also quite present and they are more than willing to experiment with different gameplay styles. Almost every possible gaming genre is now present on the iOS App Store, which is something I am thrilled about.
Review: Super Tribes
In this article, you will get to learn about a recently released RTS game, called Super Tribes. In case you were (or still are) a fan of Age of Empires or Civilization, then you will find Super Tribes to be your next download from the App Store. Continue reading to learn more.
Visual Style
The visual style of Super Tribes is astonishing. It's very bright and cheerful, and everything has a paper craft vibe to it. The screen real estate is fine as well, so you won't have any trouble reading different maps and messages. At certain points, some messages were a bit too small for my taste, even though this is nothing to worry about. However, I would still like to see an option to zoom in, since things can become very hectic later on in the game. Developers said they're aware of this issue, so I am sure we will soon see more options to preview different kinds of information.
In addition, the game can be played in portrait and landscape, which makes playing on iPad especially enjoyable. The iPhone version can be hectic at the time, so you will definitely enjoy Super Tribes on a larger screen.
The amazingly designed art style goes well with quick and cheerful animations. We also shouldn't forget about the soundtrack, which I truly enjoyed in. My recommendation is to grab your favorite headphones or earbuds, and completely lose yourself in this game.
Gameplay
The game manages to stay intuitive from start to finish. No matter if you're a newbie or an experienced RTS player, you will see that somehow everything will feel familiar. You start off by choosing a tribe, and there are four tribes to start with.
You choose from: the Xinxi (with preloaded Climbing tech), the Imperious (Organization tech), the Bardur (Hunters tech), or the Kickoo (Fishing tech). There are two additional tribes that come as in-app purchases. Each of these tribes directly influences the type of terrain, which also dictates what kind of food you can grow. Before jumping in, you also need to select the number of enemy tribes (1-3), as well as the difficulty level (Easy, Normal, Hard, and Crazy).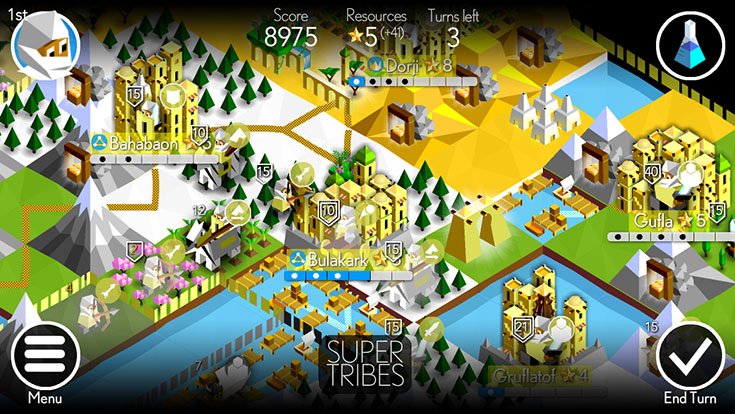 Just like in most RTS games, you will have to collect resources, invest them into building new units and buildings and fight against your opponents. Super Tribes is turn-based, so keep an eye on a resource counter (denoted by stars), which highlights your maximum move count during each turn.
You start the game with a single city and one warrior unit at your disposal. As you start to explore the map, you will encounter neutral cities and enemy tribes, who will be very friendly as first. My suggestion is to explore everything you can, early in the game, since this can provide technology points and money. Later on, you can start exploring your empire through conquest. This is done by taking over neutral cities, or by sieging enemy towns. Since there is no Settler unit, you can't build new settlements, so the goal is to take over as many cities as you can.
Super Tribes is not all about the war since you can also take a more defensive role. It is important to nurture your settlements by gathering food. This will make your population larger, which also provides a faster way to take technology advancements.
You will have to plan your moves ahead since you only have 30 turns until the game is finished. The game ends, and your final score will be tallied by how big your creation was, and so on. Then, you can choose a new tribe and start your journey once again. This kind of a simple linear gameplay might be off-putting to some, but you couldn't be more wrong.
This kind of fast-paced game is perfect for handheld devices since it brings on a quick and attention-grabbing challenge. With only 30 moves available, you will spend more time planning your moves and taking care of settlements and units, since a single bad turn can bring your whole empire down.
There is also a third important aspect to this game, and that is the tech three. There are 21 technologies to research, which are available to all tribes. Since they come branched, you will have to choose your own path. What's important to be said is that new technologies can unlock various tasks, and this award you with additional points. This should be important to those of you who are chasing the highest possible score.
What is important to be said is that Super Tribes is a nice example of a mobile RTS game. It is quite complex in terms of strategizing, and you will have to put all your effort into these quick, but intense levels. On the other hand, there is no winning formula since different kinds of maps and different tribes will require different methods of play.
Negative Points
If there is something that I would pick as a negative point, that would be the lack of victory conditions. The game also doesn't save your scores, but instead, shows scoreboards for the best daily and weekly scores from all Super Tribes players. This means that once you finish your game, you will never see that particular score ever again. The scoreboards are filled with players who somehow managed to get impossible scores, making it very hard to see your own score on those lists.
Conclusion
You can download Super Tribes free of charge, and the game can be played without spending any real money. In case you really get addicted, it wouldn't be such a bad idea to spend a couple of dollars to unlock a few additional tribes. I am sure you will enjoy in this game.