It has been more than a week since Apple announced macOS Sierra, and we've gotten a chance to try it out for ourselves. Even though we already reported on all the major features of the upcoming macOS update, there is still a lot you need to know. Even if you watched Apple's WWDC keynote and read our article about macOS Sierra, you may have missed a couple of interesting features that have flown under the radar.
Here's a look at some of the hidden macOS Sierra features:
Hidden macOS Sierra Features:
Improved Storage Management
After using the new version of the operating system for a couple of days, it became apparent that Sierra's storage management is complicated. Apple's Craig Federighi actually presented a very simplified version of the concept, where you need to press one button in order to get gigabytes of free space.
As we learned from the keynote, you can now sync your Desktop and Documents folders using iCloud, and you can enable the option of deleting local copies of documents that are stored in iCloud. However, this is just one small way Apple is giving the system the opportunity to reduce storage.
In Sierra, you can find a new Storage Management window, located in the System Information application. This app provides a suite of tools to help you free up disk space. For example, you can turn on or tweak settings for Mail and iTunes. You will see how much space your Mail attachments are taking, so you can decide if you'd like to download attachments from recent messages only. In a similar manner, you can make your iTunes delete watched videos and movies.
A feature called Reduce Clutter allows you to delete obsolete files on your system. This is nothing new for OS X users, as well as for anyone who used third-party spring-cleaning utilities. Typically, these are logs and iOS device backups, DMG files, and the like.
It is also important to be said that Apple is making numerous tweaks behind the scenes, aimed at providing you as much free space as possible. If you use Safari to download a file that you already have, the web browser will download the new version and delete any older versions of the same file. The operating system is also more aggressive when it comes to cleaning up log files.
Siri Controls Your Mac
Since Siri is probably the biggest selling point of macOS Sierra, I am sure you've already heard about Siri's capabilities. This digital assistant can provide quick results to Web queries and these results can be pinned in Notification Center, or even dragged out to other apps. However, Siri can be tailored for macOS and comes with a bunch of commands that directly affect Mac hardware.
Just like on iOS, you can tell Siri to make your screen brighter or darker. You can turn Wi-Fi on and off, adjust the system volume, put the Mac to sleep, and more.
Furthermore, Siri can provide system-specific information, like the speed of your computer's processor, how much memory it has, as well as how much free space remains on the drive.
Overhauled Photos App
When it comes to changes to the Photos app, Apple discussed it in the context of iOS. However, the Mac version of the app also gets the same new machine-learning-based image categorization.
The new feature detects scenes, moods, animals, and people's faces as well. However, this is not the same Faces feature as in iPhoto, since the new engine is far more modern and capable.
Photos now have a new People album that replaces the old Faces window. If you have pictures of people's faces attached to their contact information, the app will use that to try to automatically name them. Otherwise, you can do that by clicking and typing.
Advanced Apple Pay Functionality
We all know that now we can use Apple Pay to pay for things online. On stage, Federighi showed how Apple Pay with an Apple Watch and iPhone. However, there is one interesting tidbit that he didn't share.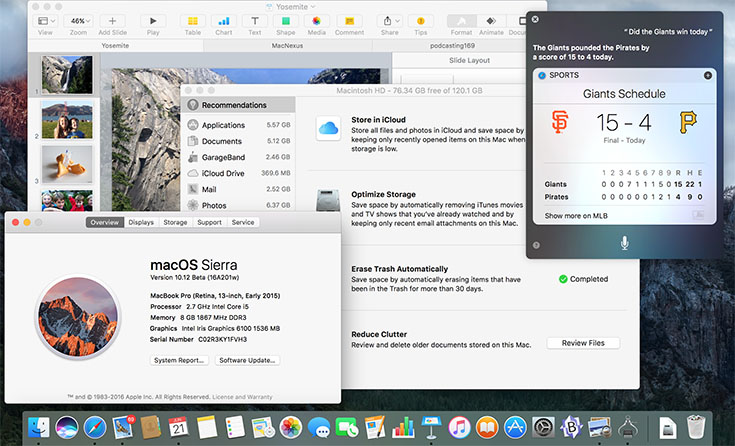 Thanks to macOS Sierra, your Mac is aware if there is an Apple Pay-eligible device within range. This way, Safari can be instructed by web pages to show or hide Apple Pay buttons based on a device's proximity to the Mac. What this means is that if you're browsing an Apple Pay-enabled website without your Apple Watch or iPhone in close proximity, you won't see the Apple Pay button.
Picture in Picture
The new Picture in Picture feature in macOS Sierra is the same one as in iOS 9 on the iPad. In case you're using this feature on your iOS device, then you know that you can stick the video in the corners of the screen.
In Sierra, you can easily reposition the small video player to anywhere you want. You have to hold down the Command key while moving the Picture in Picture window, and then drop it anywhere you like.
Rich URL Previews
The company has decided to turn the Messages app into a platform, so third party services can take advantage of that. When it comes to iOS, there are a lot of new and interesting additions to the Messages app, but not all of them can be found in the same app on macOS Sierra.
While Messages for Mac can't create most of the cool effects added to iOS 10, it can play most of them back. However, there is one improvement to Messages that works both ways: the addition of rich URL previews.
When you send or receive a message that contains URLs, Messages will load the name and an image of the page you're referencing. This information will be presented in an attractive preview box. I am sure we can all agree that this is much friendlier than a bare URL.
In case you missed our preview of macOS Sierra, you can read it by following this link. We have also prepared and published a comprehensive guide for the upcoming iOS 10, where you can find detailed information about this release.